Paco Rabanne, the Spanish-born designer, has died at the age of 88 in Portsall, Brittany.
The death of Francisco Rabaneda y Cuervo – Rabanne's birth name – was confirmed by a spokesperson for Spanish group Puig, which controls the Paco Rabanne label he exited two decades ago.
He founded his namesake brand in1966, and while it is now best-known for is aftershaves and perfumes, it was his Space Age designs in the 1960s, that first brought him to the attention of many.
A statement shared on the fashion house's official Instagram account said: "The House of Paco Rabanne wishes to honour our visionary designer and founder who passed away today at the age of 88.
"Among the most seminal fashion figures of the 20th century, his legacy will remain a constant source of inspiration.
"We are grateful to Monsieur Rabanne for establishing our avant-garde heritage and defining a future of limitless possibilities."
Dubbed an "enfant terrible" in his early years, he helped upset the status quo of the Paris fashion scene, alongside fellow French designers Pierre Cardin and Andre Courreges.
His flamboyant designs frequently used unconventional material such as metal, paper, and plastic, with his first collection aptly titled: "Manifesto: 12 unwearable dresses in contemporary materials".
Presented by barefoot models on a catwalk in a luxury Paris hotel, the collection included a chain mail-inspired silver minidress made of aluminium plates, which was worn over a flesh-coloured bodysuit.
Baroness Helen Bachofen von Echt went on to wear the dress to a party in New York where she danced with Frank Sinatra, according to the V&A museum.
Embracing cutting edge materials and modern ways of working, he used plyers rather than a needle and thread to create the craft outfits, which made from strips of plastic linked with metal rings.
The collection – which simultaneously looked both futuristic and medieval – has gone on to inspire numerous contemporary designers.
He famously created the green costume worn by Jane Fonda in the 1968 cult-classic science-fiction film Barbarella, with numerous celebrities including Beyonce, Taylor Swift and Blackpink all going on to wear his clothes.
Commenting on the influential 1966 show, president of Puig's beauty and fashion division Jose Manuel Albesa said: "Paco Rabanne made transgression magnetic. Who else could induce fashionable Parisian women (to) clamour for dresses made of plastic and metal."
Rabanne teamed up with Spain's Puig family in the late 1960s, launching his collection of perfumes and scents, which would go on to serve as a springboard for the company's international expansion and vast commercial success.
His debut fragrance, Calandre, is still available today, and his Lady Million Eau de Parfum – presented in a distinctive bottle in the shape of a gold ingot – remains a best-seller.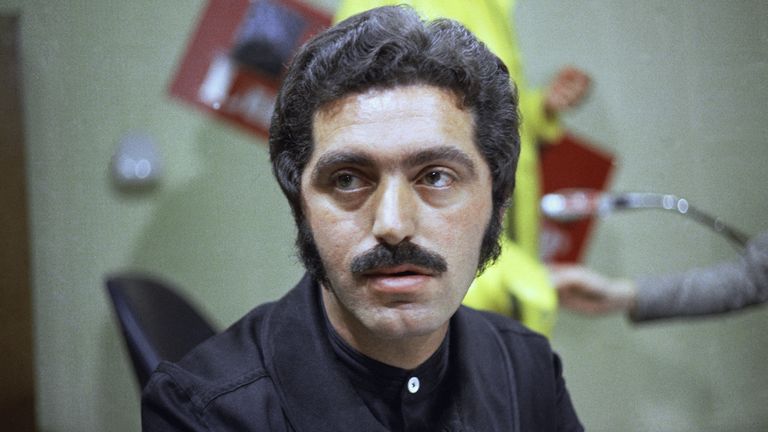 Born in 1934 in the Basque Country, in the western Pyrenees, he escaped the Spanish Civil War by fleeing to France at the age of five alongside his mother, who was a head seamstress at Balenciaga.
He initially studied architecture at the Ecole des Beaux Arts in Paris, before beginning his fashion career in the early 1960s.
He started his career sketching high end handbags and shoes, before branching into fashion and jewellery, selling his large plastic accessories and buttons to to couture houses.
Reflective of the mid-1960s cultural climate, his garments used post-war industrial materials – creating a trademark chunky and bold look. His architectural background also shone out in much of his work.
After a three-decade long career, Rabanne stepped back from the design house in 1999.
In 2010, the designer was made an Officier de la Legion d'Honneur in France, the country's highest civilian award.